Vale Kim - Ensign Fick
Posted on Fri Jun 4th, 2021 @ 5:03am by Captain Nycolas Temple
Edited on Fri Jun 4th, 2021 @ 5:09am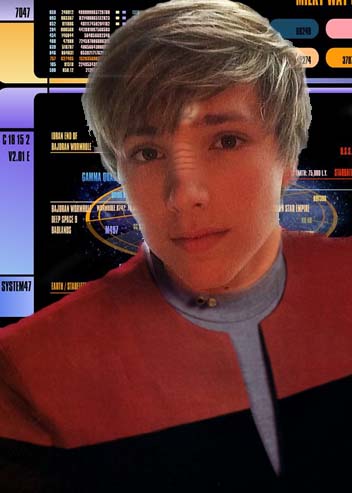 To the Pandora family,
For those of you not on Discord or already aware, the Pandora has lost a member of our crew.
Tragically, our fellow player, Kim - who primarily played Ensign Vecon Fick, Chief Flight Control Officer - was involved in a car accident in real life. Though she was taken to hospital and placed on life support, she could not recover and has passed.
Kim was an incredibly gifted writer, a beacon of energy and ideas, a respectful player, a genuinely passionate RPer. There are many here who knew Kim from other sims and ships, and those who have played with her over several years. To those of us who have not just lost a crew member but also, a friend - my heart goes out to you during this sad, awful time. The Pandora sends our sincere condolences to her family and friends.
Kim joined this version of the Pandora on July 13th, 2017 - having previously served on the original Pandora with many of our players as well. During the past four years, she brought to life the vibrant, earnest character of Vecon Fick, whom she played with energy, honesty, and depth. Fick was a delight to interact with because Kim was such an amazing player to write with. She has won the Player of the Month award, Post of the Month award, and been nominated for awards many times over because of her kind nature and collaborative skills.
We can remember Fick and Kim through the work she did on the Pandora and her other ships.
Please have a read of Fick's posts
at your choosing. Personally, I think the 6-part series where K'Laus and Fick return to Risa was a compelling, personal storyline and well-worth the read. She also brought us Tisar Zemel, the Cardassian with a passion for music, and the loving couple of Lieutenant Eiri Ashshy and Ashshy Ayan. In Theta Fleet, Kim was writing for the USS Wolff and USS Standing Bear. The Pandora joins with the Wolff and Standing Bear in this time of loss.
We will make a decision in due time about how to respectfully deal with the IC departure of these characters.
Though we may just appear as names on a screen writing for fictional Star Trek officers, that doesn't take away the sense of loss we should feel from Kim's passing. She was a part of this crew for 4 years and for many years with others in the RP community. This loss is real. I encourage anyone who requires time away from writing to please take as much time as you need to process this in your own way. I also encourage you to seek assistance from professional counselling services if you require it. Please ask for help if you need it.
Rest in peace, Kim. It was an honour to have served with you on the Pandora and a joy to count you as a member of this crew.
You will be missed.
=/\=
Category: General News
Tags: